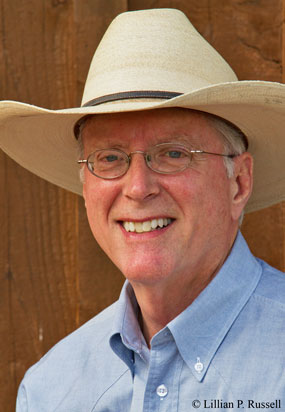 Widely respected nature, wildlife and western-image photographer David K. Langford stands as one of the industry's most accomplished artists. By viewing photography as a form of art, Langford has generated and continues to create works as distinctive and memorable as the subjects he selects.
On both national and international levels, Langford has been the recipient of numerous awards and grants. He received the prestigious "People's Choice" award from the Outdoor Writers Association of America and, closer to home, consistently ranked as a Texas Outdoor Writers Association award winner. In other competitions and honors, Langford has garnered several National Addy Awards from the American Advertising Federation as well as coveted accolades from American West magazine, the Livestock Publications Council, the International Wildlife Foundation, and the Images for Conservation Fund.
Langford is also only the second person ever selected to receive the Harvey Weil Professional Conservationist Award, and has also achieved the honor of having the Images for Conservation Fund's second book dedicated to him – an exceptional honor as ICF's first book was dedicated to Lady Bird Johnson.
A prolific as well as powerful photographer, Langford has a large inventory of limited edition prints. Many of these have been exhibited in such places as: the Sportsman's Gallery in Houston, Texas; Collector's Covey in Dallas, Texas; Southwest School of Art, NanEtte Richardson Fine Art and the Witte Museum, all in San Antonio, Texas; and many more locations throughout the Southwest. Langford's most current selections are offered by two galleries in Texas: Wildgoose in Ingram and High's in Comfort. Testimony to Langford's approach to photography is the fact that he currently exhibits at the renowned Western Art Show, held annually in San Antonio. He was the first photographer ever asked to exhibit in this prestigious show, which was traditionally open only to painters and sculptors.
In addition to gallery displays, Langford is also a well-published photographer. His work has appeared on the covers of and inside many issues of magazines such as Smithsonian, Outdoor Life, Texas Parks and Wildlife, Field and Stream, Texas Highways, Country, American West, The Cattleman, Sports Afield, Western Horseman, and Texas Monthly, to name only a few. And, because Langford is represented by stock photography agencies in the United States and Europe, his work has been used in calendars, books, annual reports, brochures, greeting cards, web sites, and advertisements worldwide.
In an effort to bring his vision even closer to the public, Langford occasionally offers photographic seminars and sometimes provides multi-projector, sound synchronized shows for a variety of groups and organizations. He is also a member of numerous professional organizations such as the American Society of Media Photographers and the Professional Outdoor Media Association. Moreover, he has served as a director of the Texas Nature Tourism Association, and as a trustee of the San Antonio Art League and the Southwest School of Art. Langford was appointed by two Texas Governors as a member of the Texas Agricultural Resources Protection Authority, and the Environmental Flows Advisory Committee.
Langford served as Executive Vice President of the Texas Wildlife Association from 1990 until his retirement in 2002, and still serves as TWA's Vice President Emeritus. Additionally Langford serves on the advisory board of the Hill Country Alliance, and served on the board of the Sand County Foundation, which continues to impart the messages of Aldo Leopold's land ethic to all generations.
In other contributions to furthering the missions and pleasures of photography, Langford occasionally accepts assignments, and his family and friends have helped launch a nature photography destination industry. Please visit www.blockcreeknaturalarea.com for more information on how you can enjoy an adventure photographing all that nature has to offer on a private, six-generation ranch in the Texas Hill Country. Book a trip today!
To capture the impressions for which he is noted, Langford actively explores his environment. For a few special clients, Langford continues to generate timeless images of the natural world around us.
Langford and his wife Myrna live on their family's six-generation ranch between Comfort and Fredericksburg. They have two children, and their families, which include four grandchildren.
David's Latest Project
Hillingdon Ranch:
Four Seasons, Six Generations
A 272-page book, co-authored with Lorie Woodward Cantu, chronicling how one family, which happens to be David's, has worked together over six generations to keep their ranch intact. It is also a beautifully photographed portrait of a ranching family and their life in the Texas Hill Country, where work is guided by the seasons, increasingly influenced by technology, and inevitably affected by drought.
The book, which has been endorsed by Laura Bush, Nolan Ryan and George Strait, features 218 color photographs capturing the natural beauty and the never-ending cycle of ranch work that characterizes life on Hillingdon.
Hillingdon Ranch: Four Seasons, Six Generations is part of the Conservation Leadership Series, sponsored by The Meadows Center for Water and the Environment, Texas State University and is published by Texas A&M University Press.
To explore the book, go to:
www.hillingdonranchbook.com
On this site, you can order your copy of Hillingdon Ranch: Four Seasons, Six Generations and custom prints of many of the striking images featured in the book.